How to Get Laid on Craigslist – Big Tits Blonde Model LR
In my last Craigslist lay report I mentioned how I have been using Craigslist for years to bang some of the hottest girls out there. This girl was a perfect example. Hot Blonde Model who is unhappily married and wanted to get fucked by someone other then her rich beta husband. As with the previous lay report, I shared all the emails and text screenshots from start to finish (just some details blurred out for privacy). The only thing I left out is a screenshot of the Ad I posted on Craigslist. That I don't want getting mass copied and am only sharing (for free) with people who have my Online Dating Blueprint
This one was quite straightforward (as most craigslist hookups are). She responded to my ad. We exchanged pics and I was pretty amazed. She sent me modeling pics, claiming to be from three weeks ago. After a bit of banter we switched to text. She told me she was looking for a new fuck buddy and we made plans for her to come over later on that day.
A few hours later she is here. A Platinum Blonde Milf in a Maserati.
Even my female security guard is impressed. She is wearing a sexy dress and holding a bag with three bottles of wine. I help her park the car and lead her inside my place. We get inside and she explains that she didn't know what kind of wine to get so she just brought a bunch. Its all good expensive shit that i'm not familiar with. We crack open a bottle and chill on my couch
She is a bit nervous initially so I just chill letting her get comfortable. She starts telling me her life story which is very interesting. Started modeling from a young age. Dated a very famous celebrity (Leaving out the name for privacy reasons, but its someone you know). Eventually wound up marrying some super rich guy. The rich dude has a bunch of weird fetishes and rarely fucks her (super common) so she had a "boy-toy" for a while. She essentially became his sugar mama and would pay for everything. Then a few days ago, he moved across the country.
She showed me the goodbye love letter he left her. I did a dramatic reading of it (it was very over the top lovey dovey). She was cracking up, but I could tell a part of her also missed this kid. She was defiantly an interesting character. Won the genetic lottery and treated like a star from a young age, but with no one to really love her besides this kid… who recently left.
We talked for at least thirty minutes before I started escalating. Surprisingly there was a decent amount of LMR. I really didn't expect it based on how much I had her laughing and how glad she kept telling me that she was that she met me. I used my usual two steps forward, one step back strategy while holding strong eye contact and getting her turned on. Eventually, I picked her up and carried her to my bed. This essentially sealed the deal (As a side note, vast majority of women get really turned on when you pick them up and carry them. They love it)
I toss her on my bed. Eat her out. Clothes off and we fuck.
The sex was good, but not as amazing as I expected. I made her cum pretty quickly and since I am very much turned on by perfect fake tits, I finished soon after. Afterwards, she pretty quickly got dressed and went back to the living room. She told me she usually doesn't have sex with guys that fast and asked me If I wanted to be her new "boy-toy". The offer was a no brainer. She would take me to yacht parties with all her hot model friends, we'd fly around to different places, and fuck in exotic hotels. I told her I was down.
We chilled for another half hour or so and drank wine. She was an interesting woman and we vibed pretty well. Eventually, she had to go. I walked her outside and asked to drive her Maserati. The thing was a beast, I had never driven anything so powerful. Made me feel like James Bond. Driving an expensive European sports car with a blonde model kissing my cheek. It was fun. After a few laps, I dropped myself off and we parted ways (but not before I picked her up and carried her from the passenger seat to the driver seat.
Now you are probably wondering what happened next. Did I become her "boy-toy"? Did I fuck her hot friends? Did I steal the hubcaps of her car? Unfortunately, I never heard from her again. I hit her up a few times, but she never texted back once. I am not sure if it was guilt or she just missed the other guy too much. I have my theories, but oh well. It was still fun.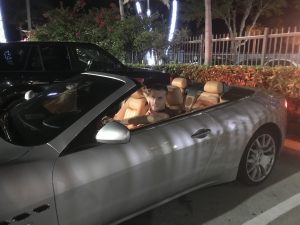 Ultimate Dating Blueprint Now Available
My new updated guide to getting laid on tinder and other dating apps with strategies you can apply now to get immediate results