DD Tit Latina Milf – Craigslist LR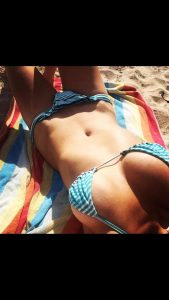 I have been meeting girls on Craigslist for a very long time. However, this is my first time writing about it. Ill be honest, the main reason I kept this to myself is self-interest. All my success on craigslist has come from putting out very specific ads in the Men for Women or Casual Encounters section. Then using a few careful strategies to filter out spam and gay dudes. Emailing back and forth a bit with the hot girls before having them come straight to my place for sex. At least, that's the simplified version. This all started way before i even imagined Playing With Fire. I didn't and still don't want thousands of people copying my ad. As a result, I decided to share pretty much everything but the actual ad I use and make that available only to people who purchase my Online Dating Blueprint (Sorta how I did with my Tinder Bio)
It comes as a surprise to all my friends, but some of the hottest girls I have ever banged have been from Craigslist (In case you are wondering, no i'm not talking about prostitutes). The main reason for this I think is simplicity. A lot of women just get horny one day. They don't want to go through the effort of setting up a tinder profile or going to the bars so their curiosity gets the best of them and they start browsing the personals section. They see a sea of creepy, weird, or just un-enticing ads until they stumble onto mine which draws them in. Boom, a few minutes later I get an email. Also there is the anonymity factor. A significant portion of the women I hooked up with on Craigslist were in relationships or had careers that they worried about risking. Many simply were just too worried/embarrassed at the thought of having someone they know stumble upon their profile on Tinder or any dating app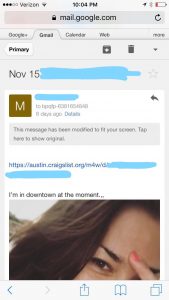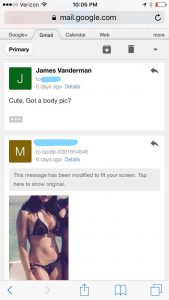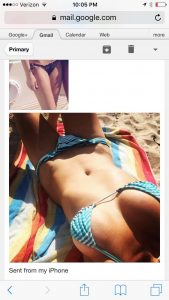 This one was no different. After we hooked up, she told me that she usually doesn't do stuff like this but was in town on a work trip and forgot all her sex toys (lucky me). She responds to my ad, with a face pic. Its cute, but I immediately ask for a body pic and she sends me two. Damn. I am impressed. She is in great shape with huge tits, just my type.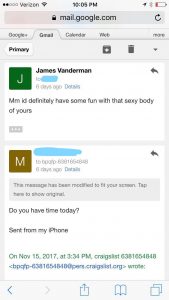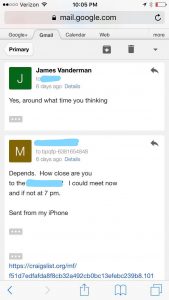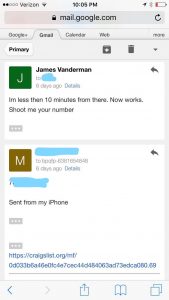 I email her "that Id have some fun with that body of hers" and she immediately asks me if I am free today. She is horny and I need to strike while the iron is hot. The next few email are just coordinating logistics. Super straight forward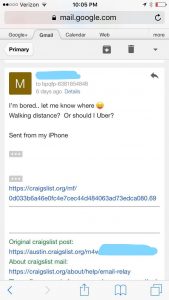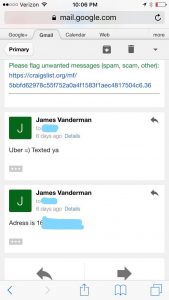 She Double Emails me. I had already texted her at this point, but she hadn't responded yet so I respond to her email. Telling her to uber and send over my address.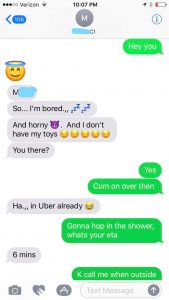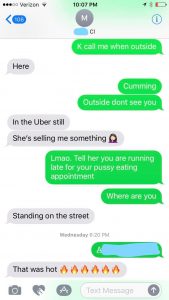 She really wants to get fucked and jumps into the Uber as soon as I send her my address. I take a super quick shower and come out right around the time she texts me that she is here. I go outside, but I don't see her. Apparently she is stuck in the Uber listening to her driver trying to sell her something. I wait a few minutes and finally she comes out. She looks just like her pictures. Sexy latina, in great shape with amazing tits. I giver her a confident hug and lead her inside. I can tell she is a bit nervous so I offer her a drink and we both do a shot of tequila. She starts telling me she never does this and that she was just super horny. I smile and tell her its ok.
We chat for a few minutes. I compliment her body. She smiles. I move in closer, pick her up, and carry her on my couch. We start making out. She is very into it right away. I rip her shirt off to reveal her amazing tits. I suck on her nipples and she gets extremely horny. Then I rip her pants off and go down on her perfect pussy. She starts moaning really loudly. I pick her up again and carry her into the bedroom and we start fucking. I am quite turned on by her and the sex is very hard and intense. I use my Hitachi magic wand on her, while fucking her in missionary and she cums over and over. Then I have her go in doggy so I can watch her big Latina booty bounce on my dick. Finally, I cum all over her tits.
We fucked a few more times after that and it was awesome. Afterwards, I drive her back to her hotel just in time for her dinner plans. Unfortunately, she was just in town for the weekend otherwise I would've definitely met up with her again
Ultimate Dating Blueprint Now Available
My new updated guide to getting laid on tinder and other dating apps with strategies you can apply now to get immediate results