Naughty Canadian Tourist – Tinder LR
Like the Sexy Czech Blonde, I started messaging this chick before I even made it to Prague. we were both tourists and the conversation got sexual quick. Here's a full breakdown…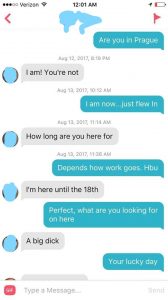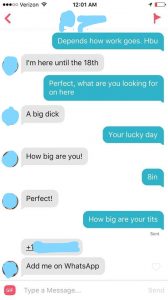 I started off with with my standard opener that I use when I am traveling. It has a pretty good response rate and makes logical sense in this situation. She calls out the fact that I am not in Prague (most girls wont notice) and I just wait a day until I arrive and message her back then. She asks me how long I am in town for, not knowing whether she is a local or tourist I give her an answer that gives me plausible deniability (pre-empting ONS objections)
She tells me she is a tourist and leaving soon, which suggests that she is probably on here for a hook up as well. I jump straight into screening her and she replies very bluntly "a big dick". I match her level of investment and tell her in the most non-qualifying way possible, that I "have a big dick". She follows up exactly how I thought she would, by asking about my dick size. I round up a few inches and give her an answer. (In case you are wondering "8in" is always the right answer if your dick is anywhere between 1 to 7.9 inches.) After, she tells me she approves, I match her directness and ask her a qualifying question. She responds by telling me to add her on Whatsapp, which means I am in for a nude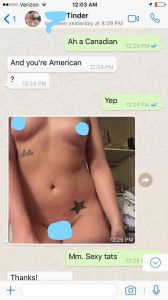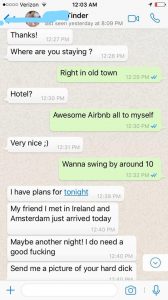 I google her area code and make it seem like I casually knew she was from Canada. She quickly sends me a nude. I respond with a compliment that doesn't give her too much validation. She follows up by asking for my logistics. I can tell this girl is very dtf and after answering her logistical questions, directly invite her over that night. She unfortunately is not available that night. Also she wants to see a dick pic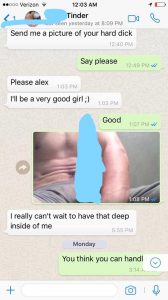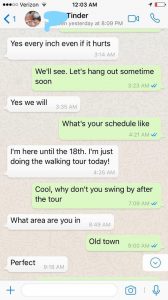 I make her ask nicely. She immediately falls into my frame, like I knew she would. The next day, I build up a little tension then go for the close again. First getting her to agree to the general idea of hanging out, before jumping into the specifics. She asks me a second time where I am staying. I always try to have good logistics when I travel so it works out.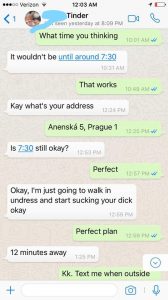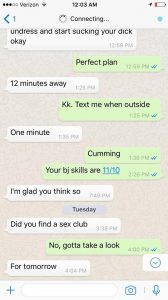 The next screenshot is just very straightforward logistic talk. She tells me that she is going to walk straight in and start sucking my dick and I of course agree with her plan. It goes down pretty much like that. I lead her inside and straight to my bedroom. She takes her shirt off so that I can see her perky nipples, unzips my pants and starts giving me unreal head. Her skills are on point. Wet & sloppy with lots of enthusiasm. I could have easily cum after a few minutes, but I want to fuck that nicely shaved pussy so I stop her.
I toss her on the bed and go down on her for a bit, bringing her close to orgasm before putting a condom on and sliding inside of her. She moans loudly as I pound away. I make her cum in missionary, before bending her over and railing her in doggy. I pull her hair & slap her ass and she loves it. Finally, for the grand finale I order her to her knees and finish off right on her cute face.
Afterwards, we chill for a bit and make plans to go to sex club to try to find a girl to have a threesome with. Unfortunately though, that part doesn't work out (not enough time in Prague for either one of us)
Ultimate Dating Blueprint Now Available
My new updated guide to getting laid on tinder and other dating apps with strategies you can apply now to get immediate results