Young European Tourist with Fake Tits – Tinder LR
I got excited when I saw her Message Pop Up.
She was my type of hot, skinny with curves, and It's always a good sign when a girl messages you first. About 1/10 of my tinder matches message me first, but over 1/3 of my lays start out with the girl sending the first message.
After a few flirty messages, I send her my standard screening text: "what are ya looking for on here". She says she is looking for fun and I suggest we meet up. She responds positively "Ok Why not =) When?" This is perfect, it means she might be free that night… Usually, if a girl has a busy schedule, she will mention it at this point.
I indirectly confirm that she is free by messaging her "are you feeling spontaneous". She doesn't bring up any plans and I ask her to join me for drinks on my patio at 8…. Even though 9/10 times the girls never see my patio, I try to make the idea of coming over still seem as chill as possible.
She agrees to come over and I ask for her number
Its international, so I put it in my WhatsApp. If you don't have this App, download it right now. Its the primary mode of communication in a lot of Countries (with some exceptions like China and Japan) and is as solid as a phone number.
I also, google her area code to find out what country it's from so that I have a good talking point to build some extra comfort. It turns out, I have actually been to her country  (In Central Europe). I share this interesting fact with her in my second message and she responds positively. Travel is one of the best conversation topics… especially with people outside of the U.S.
After a few messages of back and forth banter, I Send her my address. She brings up a possible objection (which I later confirmed to be true), that her uber might not work. I tell a white lie, about having free credits on my Uber account…It seems less try-hard on my end and doesn't risk making her feel like she owes me something.
The rest of the messages are just logistics. Turns out her hotel is super close and I hurry to clean my room before she arrives. Before I know it, Uber tells me she is outside.
Fuck, she is hot.
Young (19 years old), olive skin, Sexy face and eyes, Athletic body, and very nice curves for her frame. I give her a hug and lead her inside my apartment. I grab the bottle of champagne I had leftover in the fridge, two glasses, and lead her into my room.
My room has only two places to sit (on purpose) an office chair and my bed. I always sit in the office chair and the girls sit on the bed. We have a glass of champagne and chat about Travel. She is a nice, normal, cool girl… Obviously, a tourist from Europe…. I rarely meet girls who are from Los Angeles, that I genuinely like.
After 10 or 15 minutes, there is enough comfort and attraction, that I confidently go in for the kiss. She eagerly reciprocates. We kiss passionately, and I start making my way down her shirt. She stops me for second and shyly says "hope you don't mind they are fake"….. Not at all, I love fake tits. Her shirt hid them well (Europeans typically dress a lot less sluttily), but she had a set of perfect DDs.
I started kissing and sucking on her Big Tits
She moaned louder and louder. She had an amazing body and I was really enjoying playing with it. A few minutes later, I had a condom on and we were fucking. It was intense and very primal. She was into all the same stuff, I was: biting, choking, hair pulling, slapping, etc…
After going at it for a bit, I added my "back Massager" to the mix.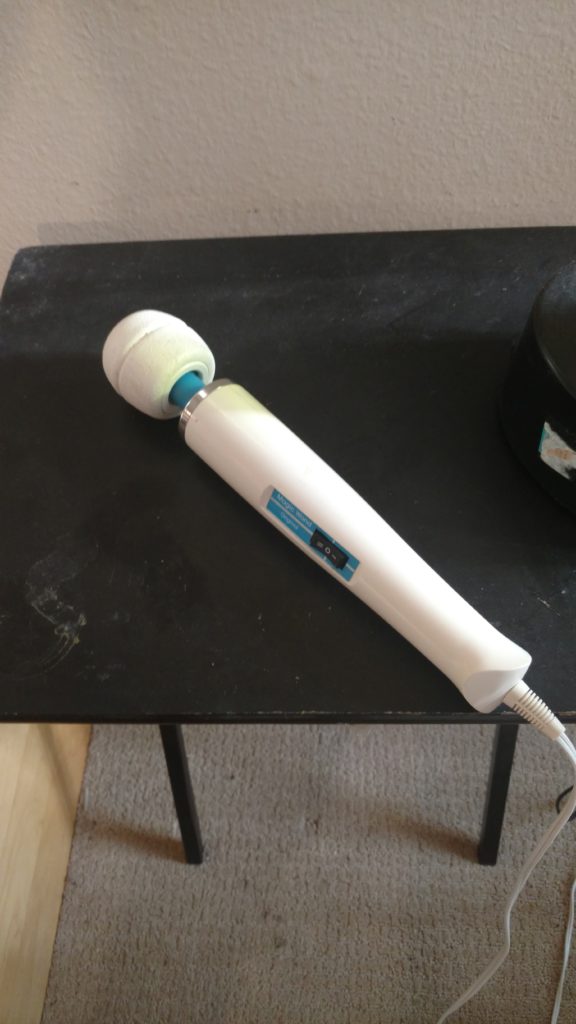 Its a Hitachi Magic Wand Vibrator. I got it for the girls who can't cum directly from penetration. One of the best ways to keep a girl around is to make her orgasm and this thing never fails to deliver. Ill typically use it to massage a girls clit while I fuck them missionary.
She loved it and it was extremely hot watching her body spasm and her moans get louder as she came.
It was her first orgasm ever.
I found out a few minutes later as we were laying exhausted on my bed. She had had 10 or so sexual partners and thought that she was getting off every time she had sex, but now realized that she wasn't actually cumming. I explained to her that a lot of girls can cum from regular sex and most guys her age have no idea what they are doing (Me definitely being one of them, back then).
She was ecstatic and kept happily repeating "Omg, I just had my first orgasm" "I finally had an orgasm" "I can't believe had an orgasm" It was really cute.
We fucked again. I just couldn't get enough of her body.
I used the vibrator on her again and doubled her orgasm count. I would have had her spend the night, but I had a second date coming over later that night and got her an Uber back. I will typically schedule two girls in a night because most of the time one will flake. Sometimes, though both come through.
My second date turned out to be a total letdown in comparison (not worth writing about) and I met up with the European girl the next night. We chilled and fucked for most of the evening/ Unfortunately, it was her last night in America. We had known each other for about 24 hours, but I was already a bit sad to say goodbye, She was super hot and had an awesome personality.
It's always my luck to meet the girls i like a day or two before having to part ways. Will definitely have to swing by her country, when I travel to Europe this Summer.
Online Dating Blueprint Now Available
My comprehensive guide to getting laid on tinder and other dating apps with strategies you can apply now to get immediate results