Top 3 Tinder Openers of 2022
What's up guys! Indian PE here back to bring you some cheat-codes you could use to spice up your interactions (or at least the beginning of it).
It's been a hot minute (actually, about 2 years) since we've looked at the best Tinder openers, and I felt it was time to update our recommendations.
In case you've not been following along, in a minute, I'll give an updated definition of what an opener should do, and the purpose it should serve. But first, let's talk about common mistakes.
As you probably know by now, women get bombarded with matches, and overwhelmed by how many texts they receive every 30 minutes. If you want, the next time you hookup with a girl, ask to see her Tinder and the matches she gets.
Lucky for you, the competition sucks. Typically guys are really bad at sending the first message. So before we dig into the best Tinder openers of 2022, let's start with the common mistakes I always see guys make when they send their first message to a girl.
Common Mistakes Guys Make with Their First Tinder Message
Too invested: The first message a lot of guys send is extremely long. When a girl looks at a long wall for the first message, she instantly hits the back button. It shows you're investing way too much into a girl you've never met. Guys tend to instantly put all their cards on the table. To stand out, you need to keep it short & simple.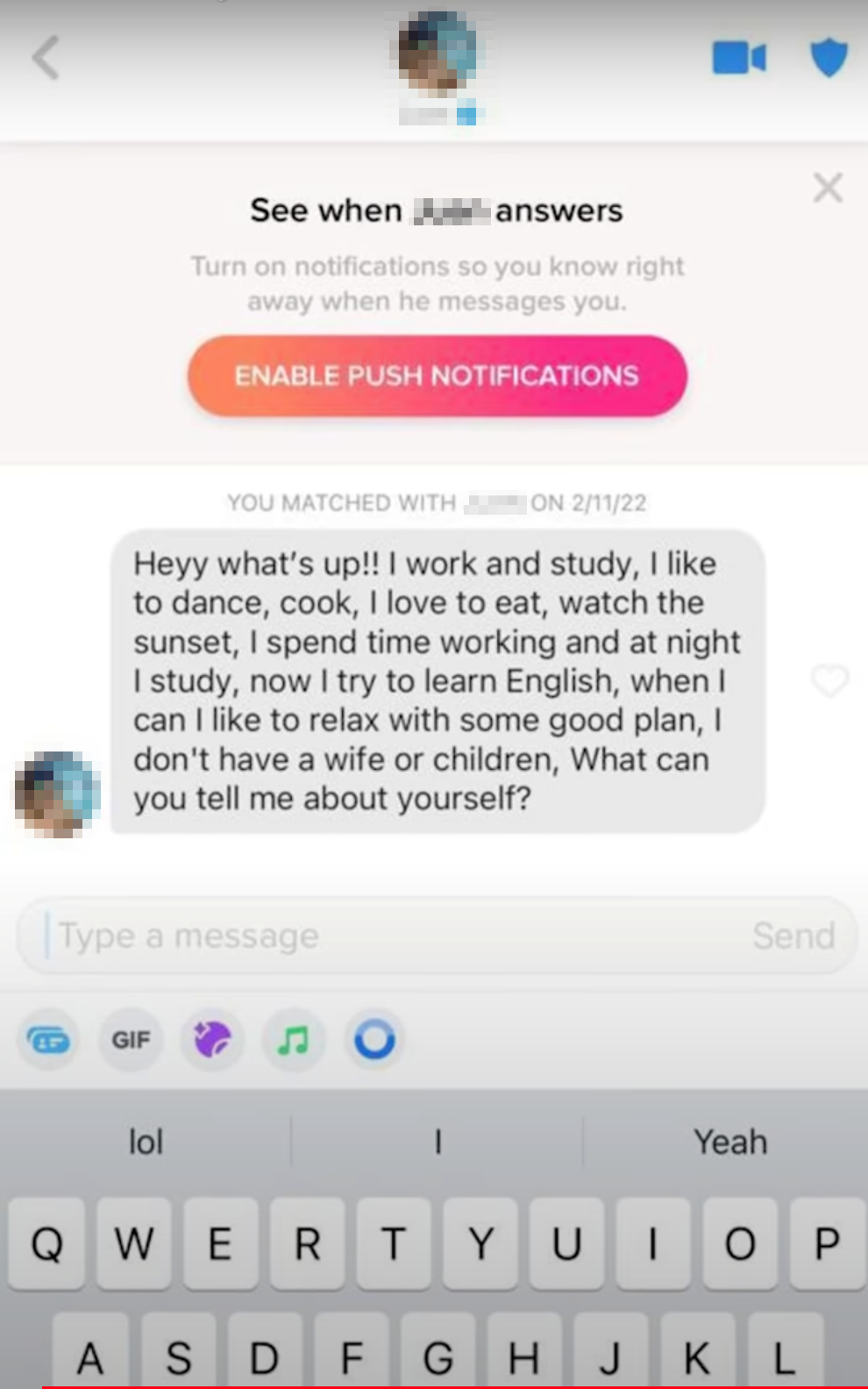 Going off of the bio: Going off of the bio is the easiest thing to do – you don't have to find something unique to her, since that's the information readily available. But it's the most common type of opener women receive, so they just don't feel the need to respond.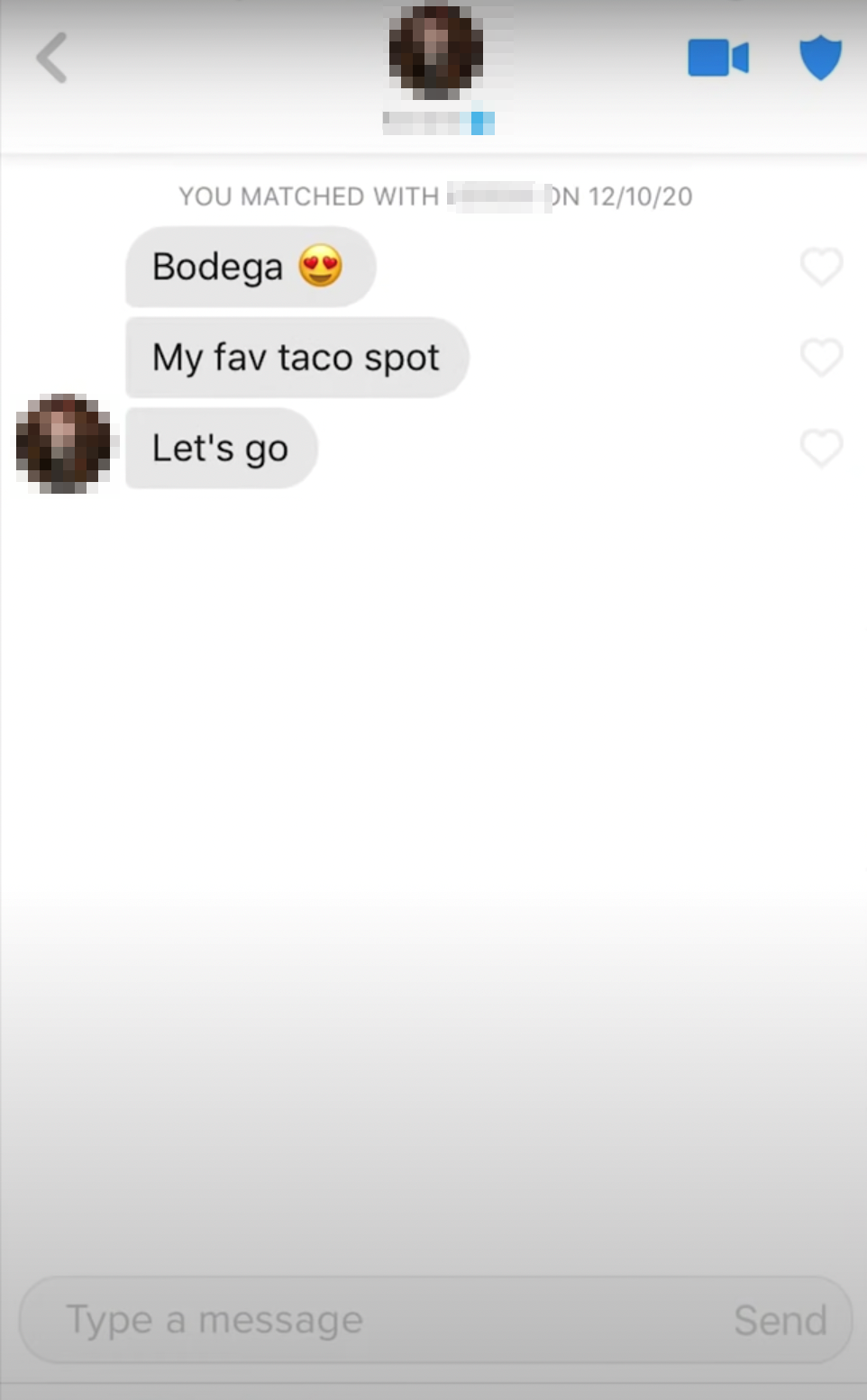 (A message we received from a guy when we ran an experiment as a girl's profile)
Too generic: Another common issue. You don't have to be Einstein to come up with something creative based off of her pictures/profile. But, just a simple "Hey" or "How are you" is definitely not going to get the juices flowing. She's getting the same exact message from 100s of others and that puts the onus of the conversation on her. Most of the time, she will not comply and probably just move on.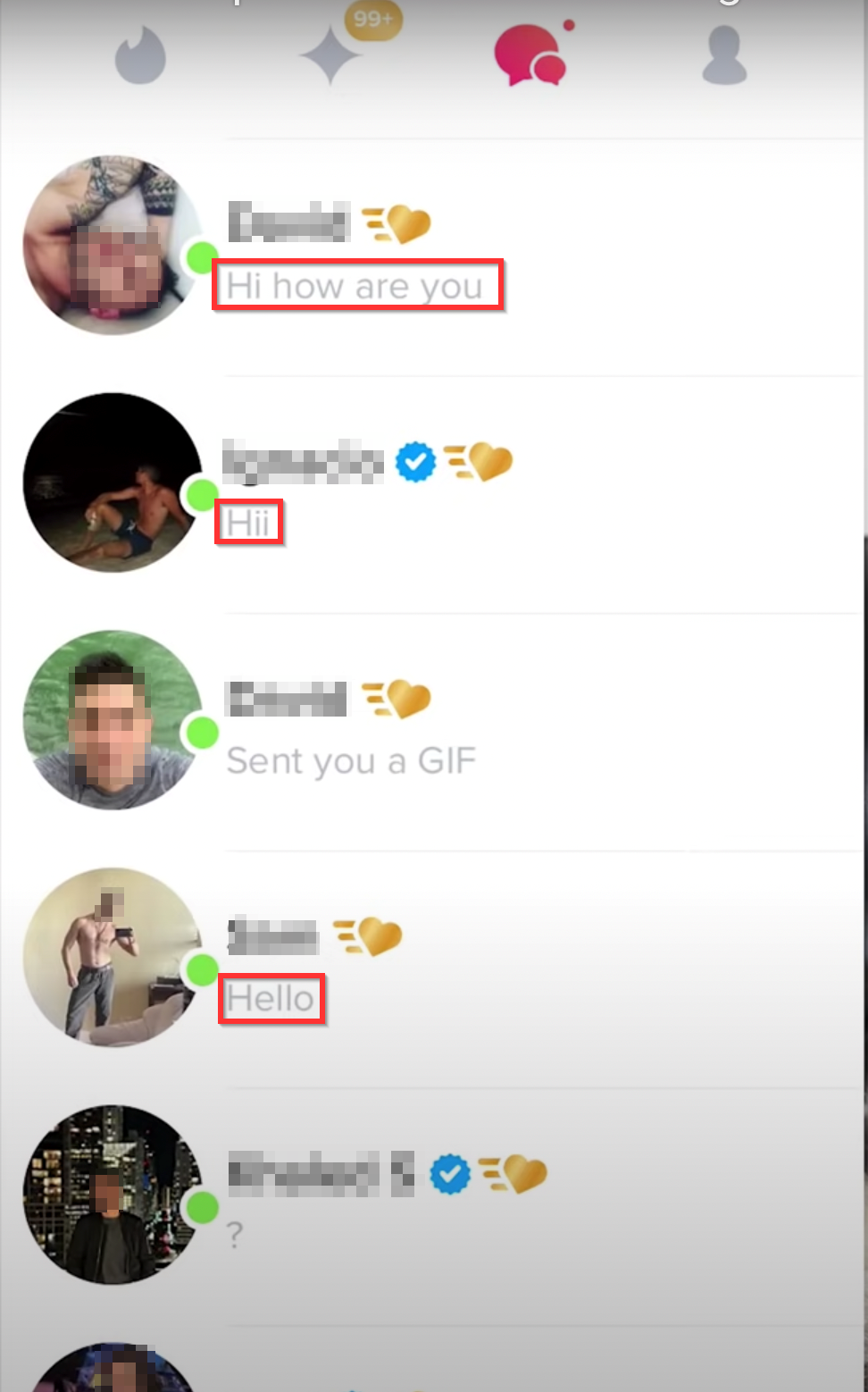 Pickup line: Last but not the least, a corny pickup line. This is on the opposite extreme of "too generic". Guys who send this think they're being creative but if a girl receives a line, she's going to assume you send it to every girl – and so she'll just ghost. Pickup lines DO NOT work 95% of the time, it's just too corny and girls are tired of them in 2022.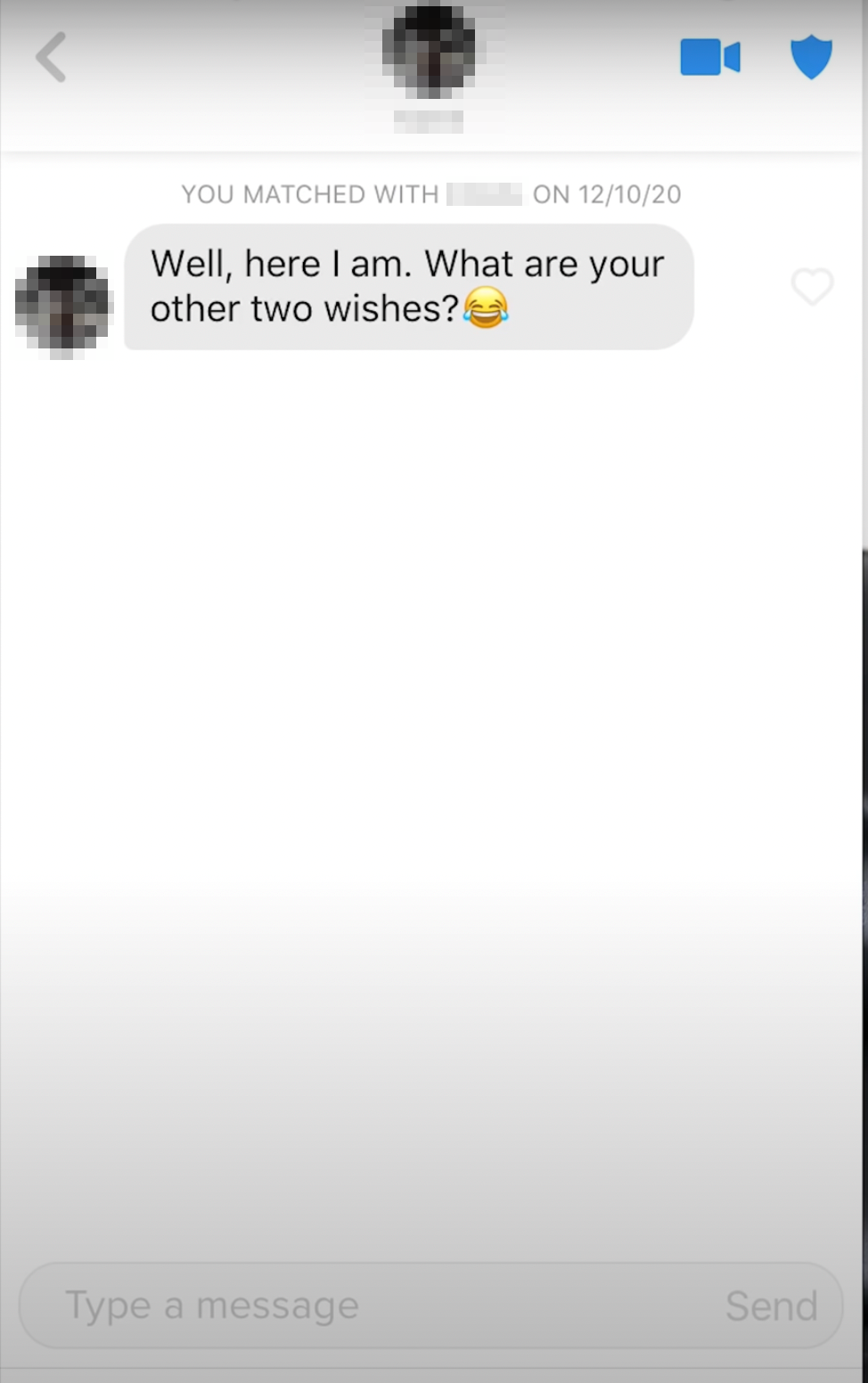 With that out of the way, what's the purpose of the opener? It's simple. To get her attention. That's it! And if you can do anything more with it, it's a bonus. Just like we ran an experiment back in 2020 for the best openers, we picked 3 new openers and 2 from the older message and messaged them to a total of 50 girls. (10 for each opener for those who are bad at math)
The Tinder Opener Experiment Results
"You look suspiciously innocent"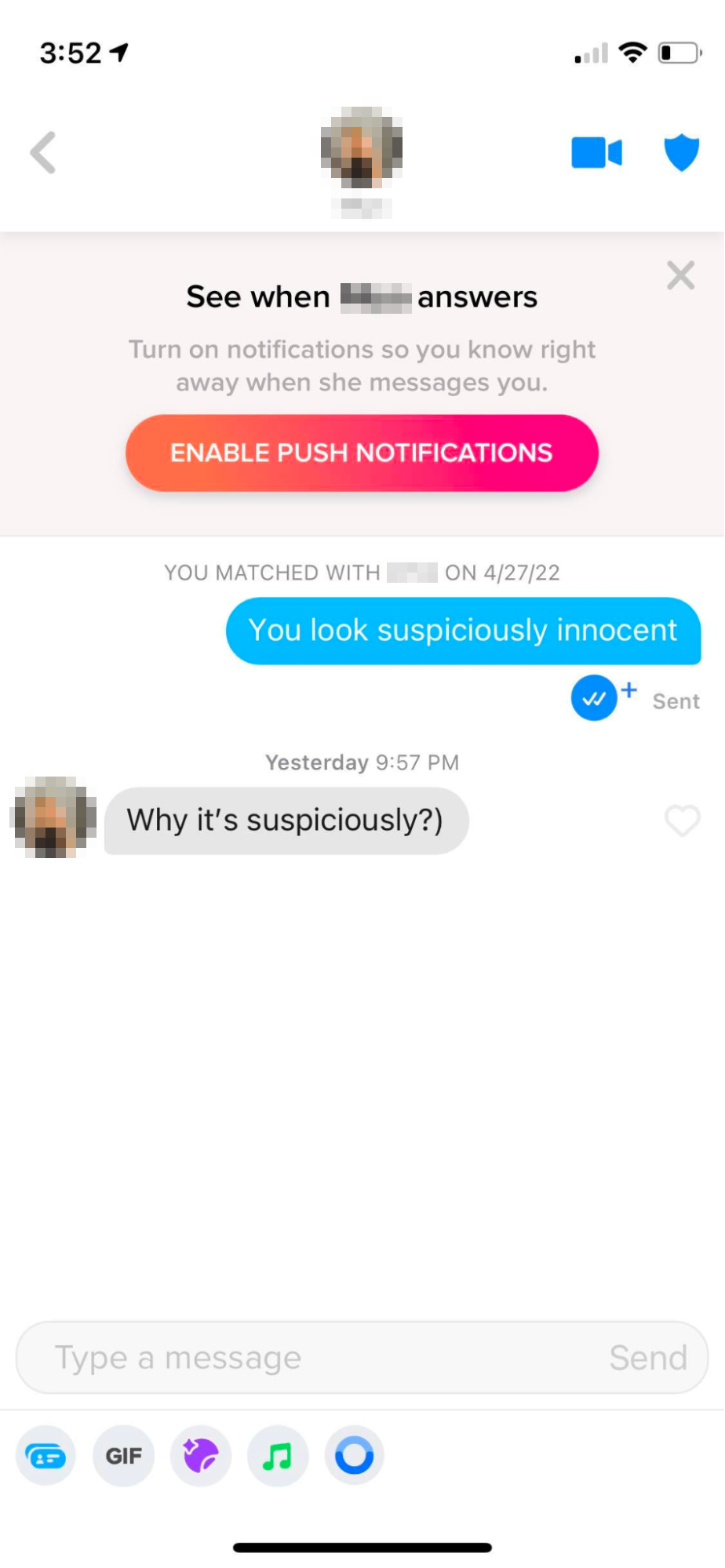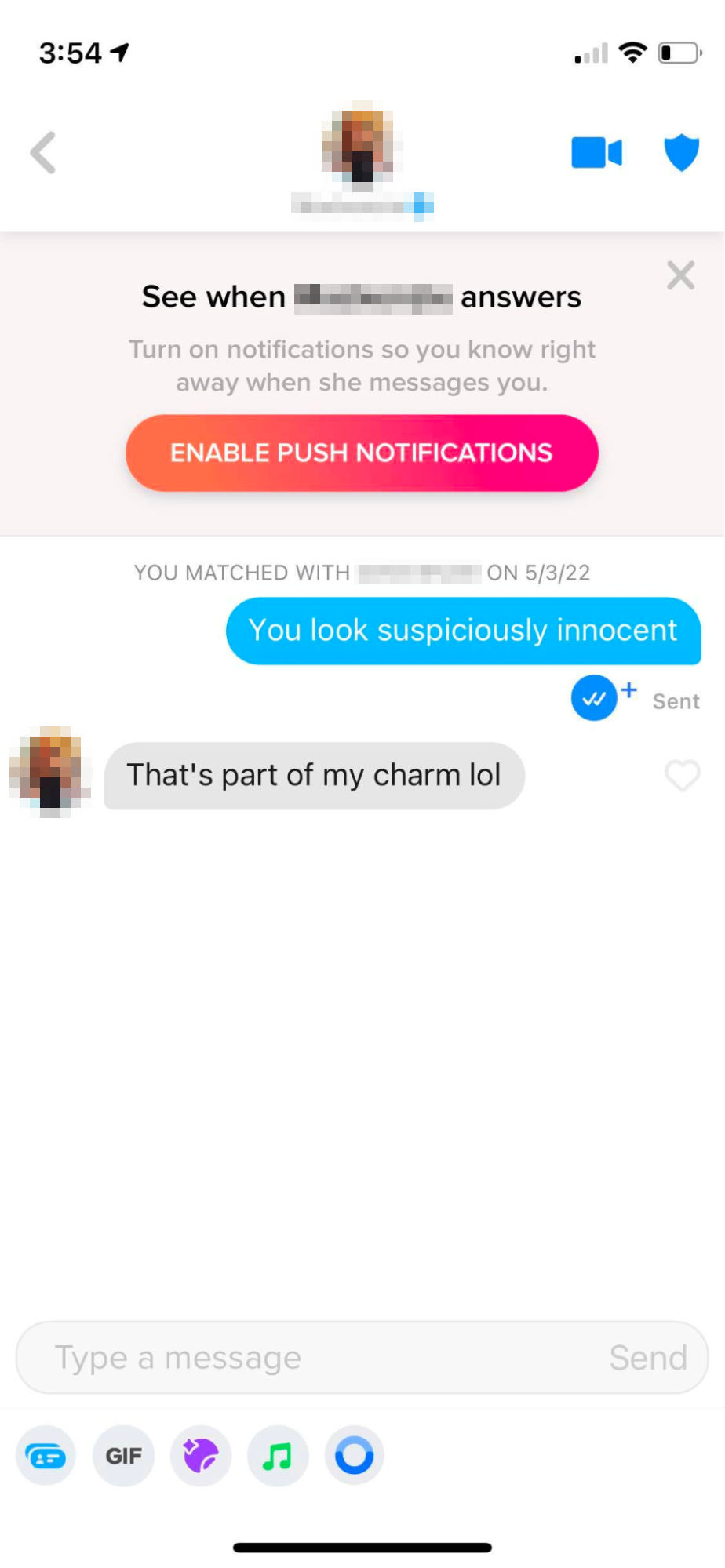 Response rate: 5/10
What this opener does?
This creates a bit of "How am I being perceived". Girls (or people in general) love to know how they are perceived. And if you put straight "You look innocent", you might fall into an issue where the girl will say "Yes, I'm innocent" and not give in to the frames of "adventurous", "open mindedness" and other ones which will lead you to a date and hookups. By adding the word "suspicious", it makes her think "Oh. He doesn't fully think I'm innocent. I wonder why". Hence, she'll want to respond.
"Okay, I'll be your boyfriend on one condition…"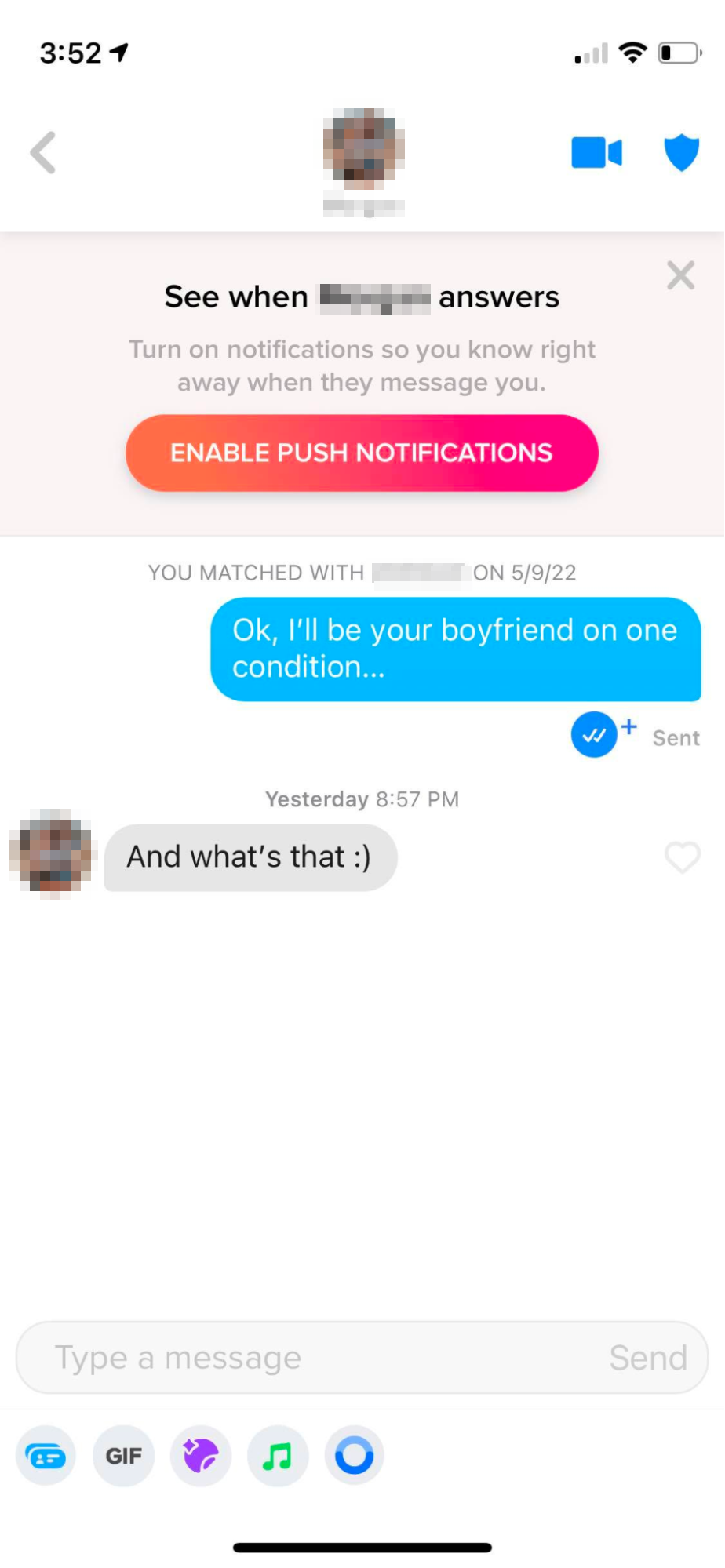 Response rate: 4/10
What this opener does?
This opener has a bit of a lighthearted side to it. You're obviously exaggerating the fact that you'd be her boyfriend and/or that you're sold instantly based on the profile. But adding the "on one condition" makes the girl want to know on a serious note of what you like in a girl. You can easily turn this to a role play, weaknesses, sexual conversation routes. For example "If you have one of my weaknesses"
"As long as you're a good cook"
"Only if you're submissive"
"This is awkward. I actually swiped for your dog/dress/any other inanimate object"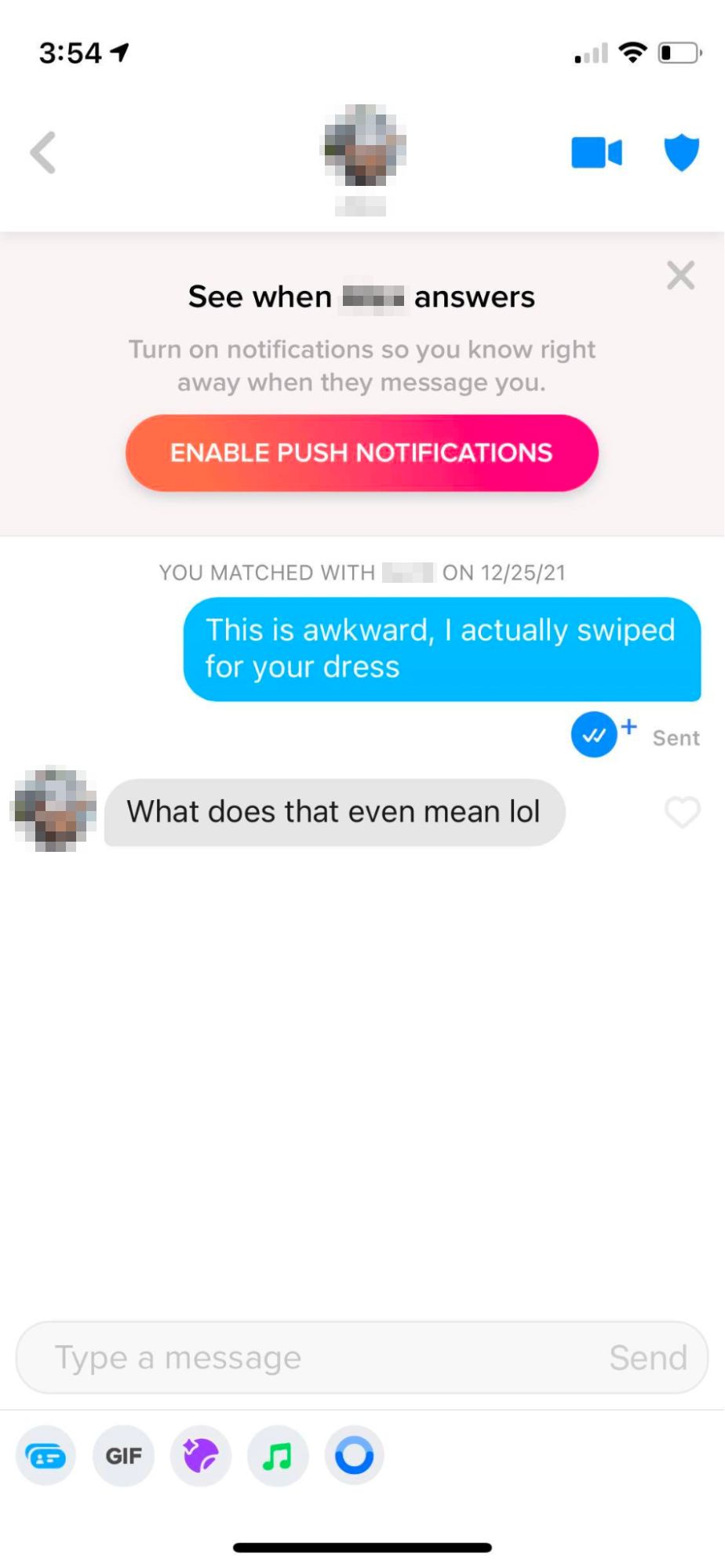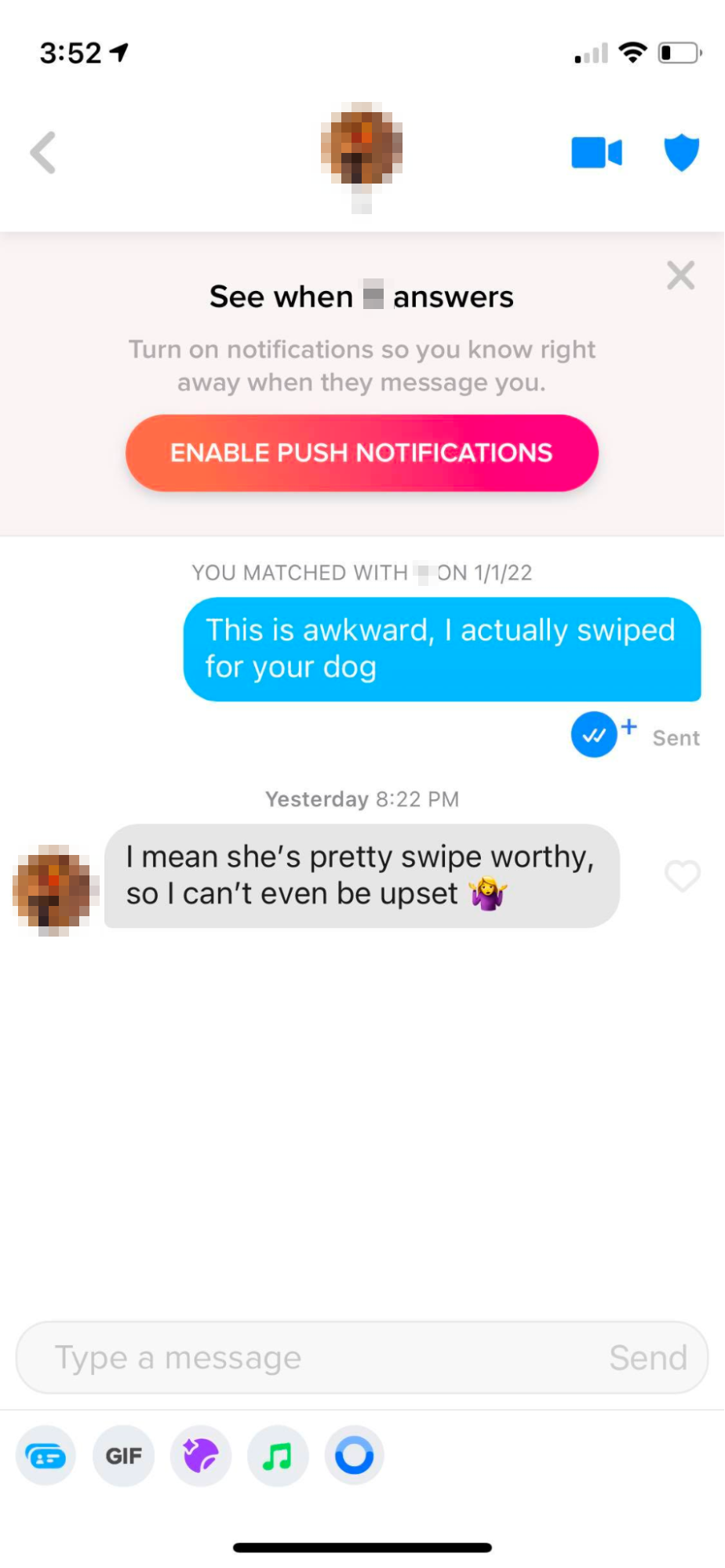 Response rate: 2/10
What this opener does?
This opener did poorly and we know the reason why. Some girls may have been offended that the interest they have for the guy might not be reciprocated. But, this is still done in a lighthearted way that you swiped right for something other than the girl. Overall, wouldn't recommend using
"Hey trouble":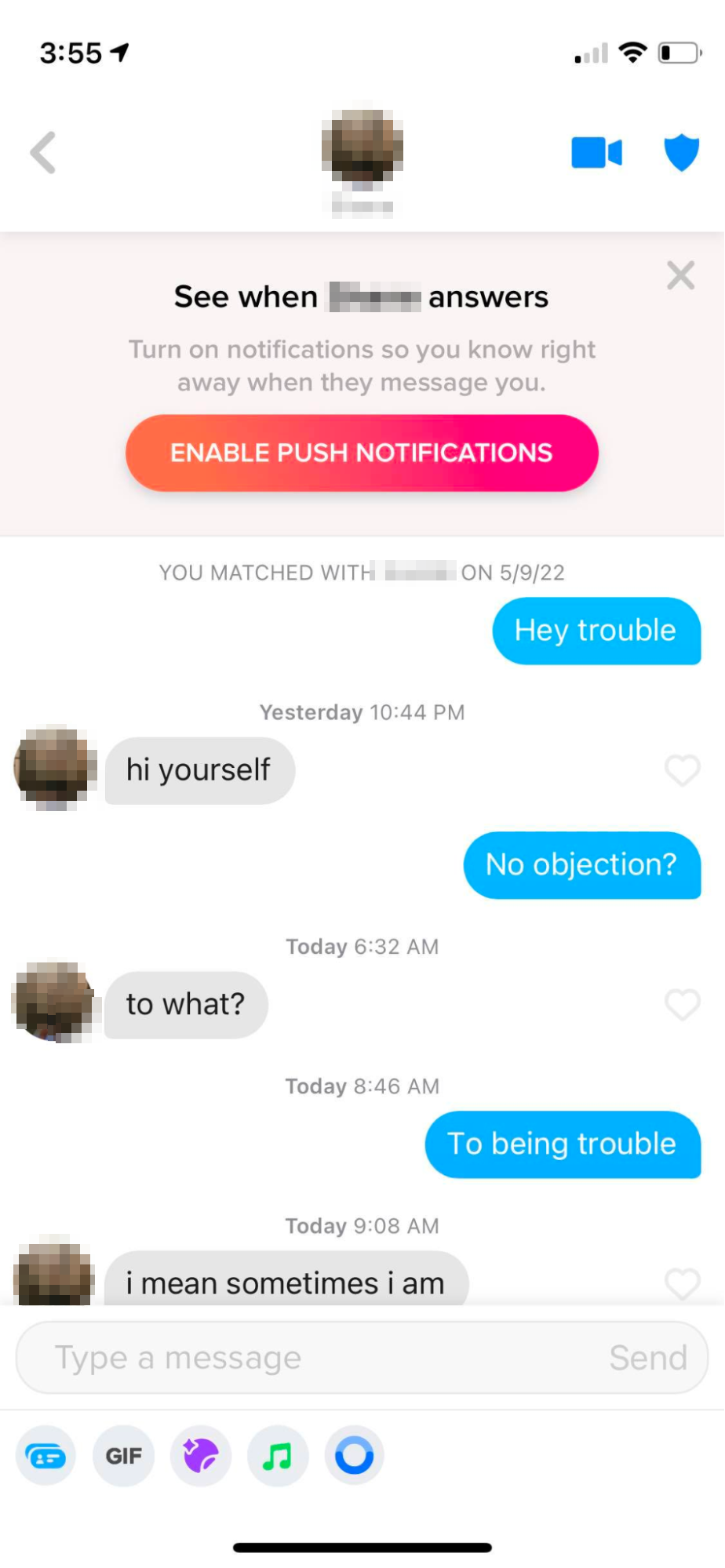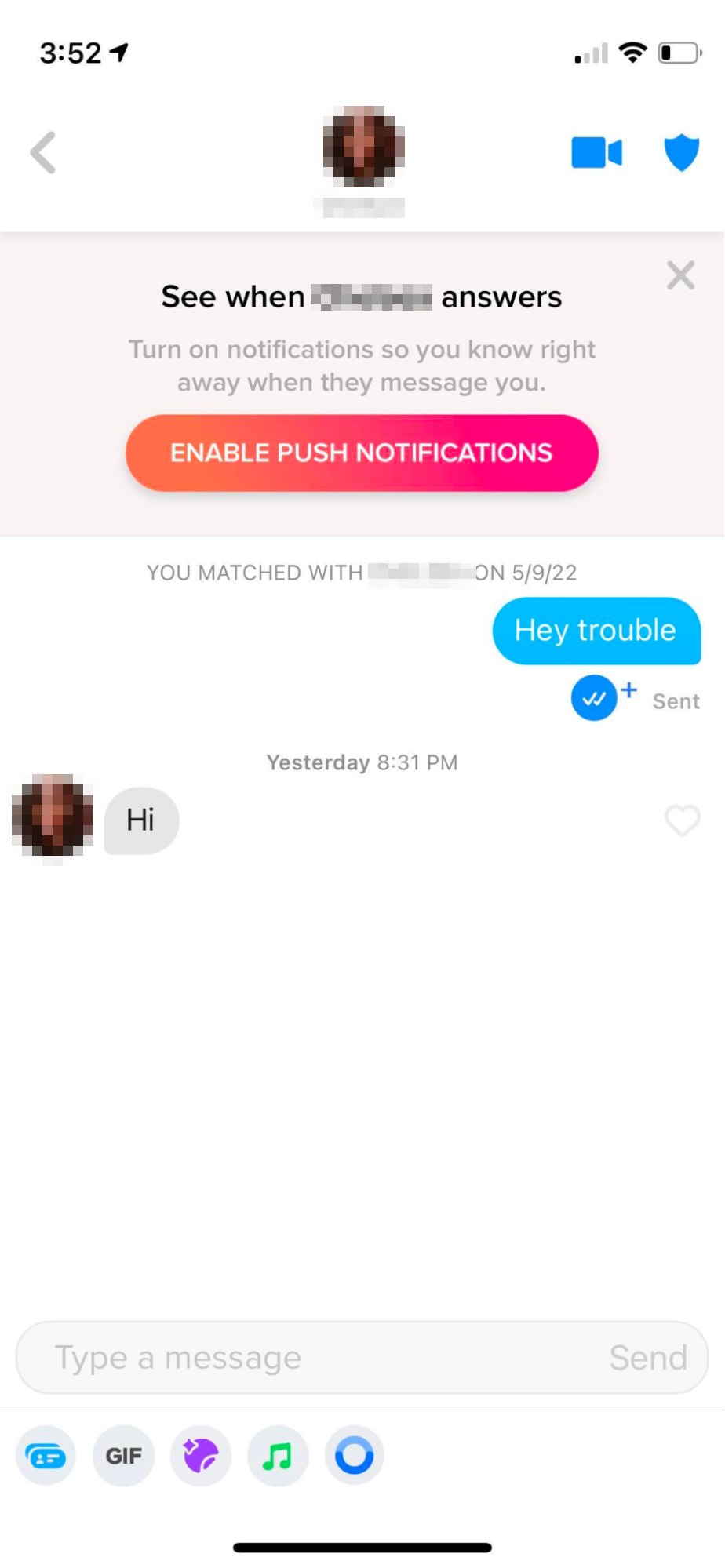 Response rate: 2/10
What this opener does?
No experiment we run will NOT consist of the PWF trademark opener. The girl wants to find out why she is trouble. Why is she being perceived that way? But, since our channel keeps growing, this opener becomes more and more obsolete since every guy who has searched for online dating advice might have seen this opener in action. Overall, wouldn't recommend anymore (*says with a heavy heart*)
"So, I guess we're dating now?"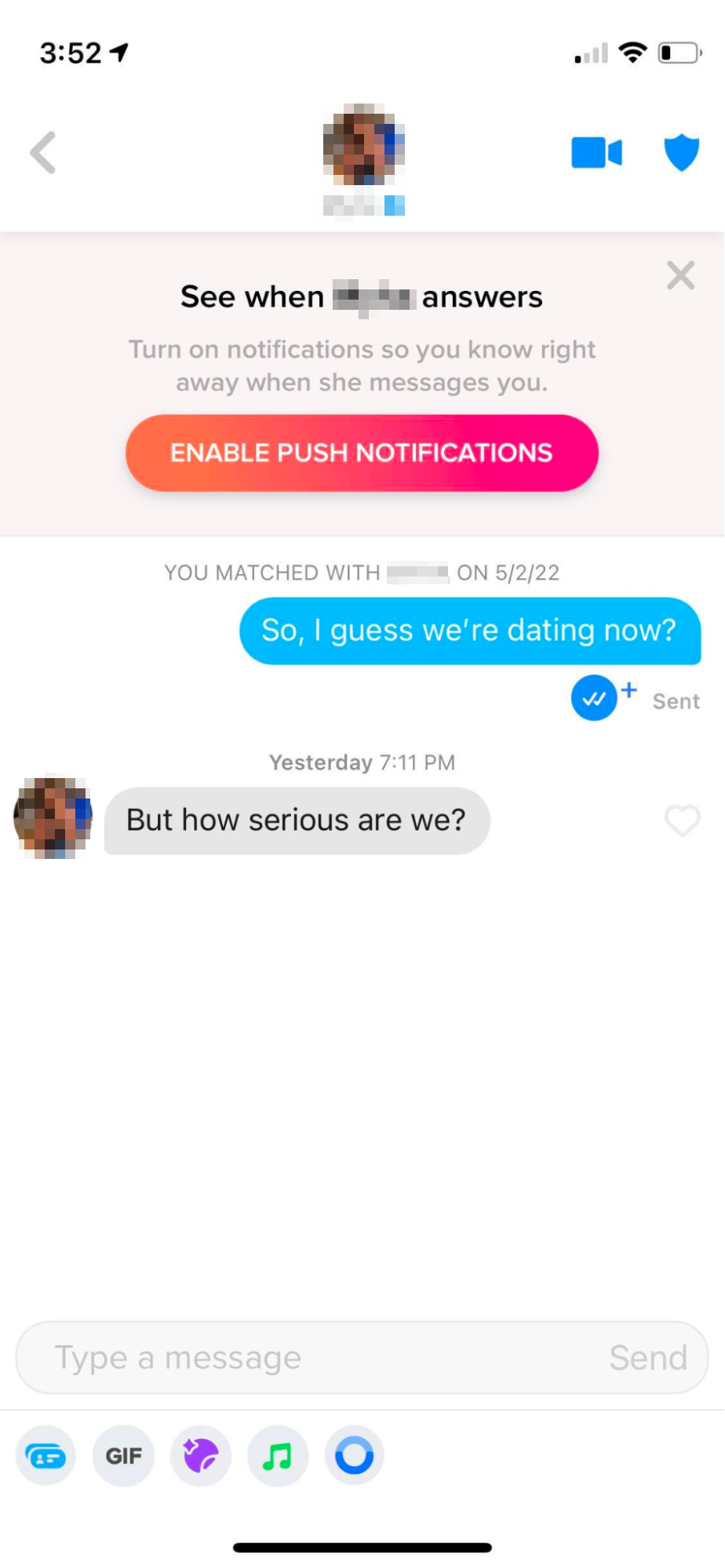 Response rate: 5/10
What does this opener do?
This opener gives you a lot of flexibility to work with. Firstly, appeals to the humorous side of the girl. Makes her smile since she knows you're obviously exaggerating. This also gives you a chance to roleplay. You could talk about getting married, getting a dog together, or even buying a house together. Overall, you can easily paint a picture of what might be possible and use all of this to end it with a soft close of "We should plan our honeymoon over a bottle of wine"
Conclusion: Use These Tinder Openers to Talk to More Girls
You might be thinking, "Where are the successful openers?", since the best of these got a 50% response rate. But with online dating getting more and more competitive on the guys' side and overwhelming on the girls' end, a 50% response rate is actually pretty good. If we're talking about numbers, if you get 10 matches a week, you can get at least 1-2 phone numbers from that. 10 matches a week is extremely low. But, you get my point.
So, to reiterate, the top Tinder openers for 2022 are:
"You look suspiciously innocent"
"Okay, I'll be your boyfriend under one condition"
"So, I guess we're dating now?"
As a final note, the most successful opener will always be something unique to a girl/her pictures/profile and so on. The more unique your opener, the more likely you are to stand out among the rest, since you put in the effort to find something unique.
Send these openers away, and let us know your results,
Indian PE
Ultimate Dating Blueprint


Now Available
My updated one stop guide to getting laid on tinder and other dating apps with strategies you can apply now to get immediate results 👇🏻