How To Sexualize Your Text Game (VERY SEXUAL Feeld LR Breakdown)
In this guide, we're going to go through a very sexually explicit Lay report. The reason this is different from other sexual lay reports is because this happened on Feeld. Feeld is a very sexually explicit kink oriented dating app where people join to explore their fantasies and kinks that they don't get to do regularly.
The demographic of the women on there can vary from a girl looking for a (male, male, female) 3some to an ENM (ethically non monogamous) girl all the way to someone who wants a strictly sexual connection.
Gone are those days where Tinder used to let us put explicit bio descriptions on there but on Feeld, you can literally do exactly that. This is how my bio looks like on Feeld right now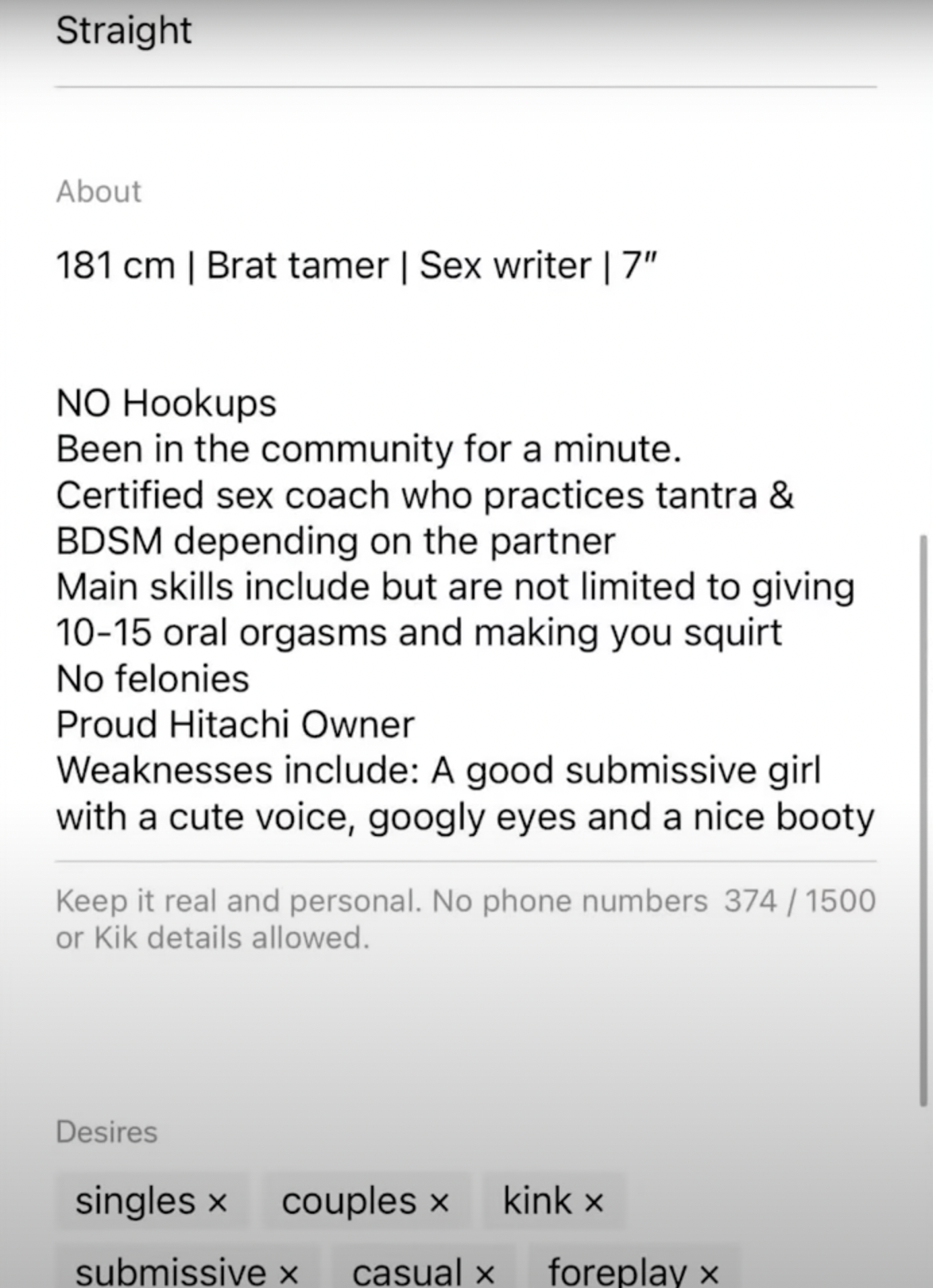 Takeaways:
As you can see, it's an extremely explicit bio. "Brat tamer", "Sex writer" are a great start to the bio because I'm trying to appeal to a whole lot of archetypes in women.
Brats love to act out just to get punished. And that involves a lot of pain/pleasure, dom/sub dynamic.
Sex writer conveys that I can be someone who's an erotic writer, or someone who talks about sex or someone who writes guides on how to have sex. The vagueness definitely draws a girl in.
The rest of the bio shows that I am quite knowledgeable when it comes to sex, BDSM and tantra. This helps because the girls on there want to hookup with someone who clearly knows what they are doing
"Proud hitachi owner". This adds a bit of humor because I'd want to ease out the harsh/explicitly sexual component of my bio. This helps not scare away girls who are on the fence of BDSM and want to try it but want to start off slow
Of course, who could forget "great oral skills"? But because Feeld allows you to, I went a level beyond with orgasms and squirtings for the girl.
The weaknesses line is something you must be familiar with if you're already a PWF fan. If not, check out this to get a better idea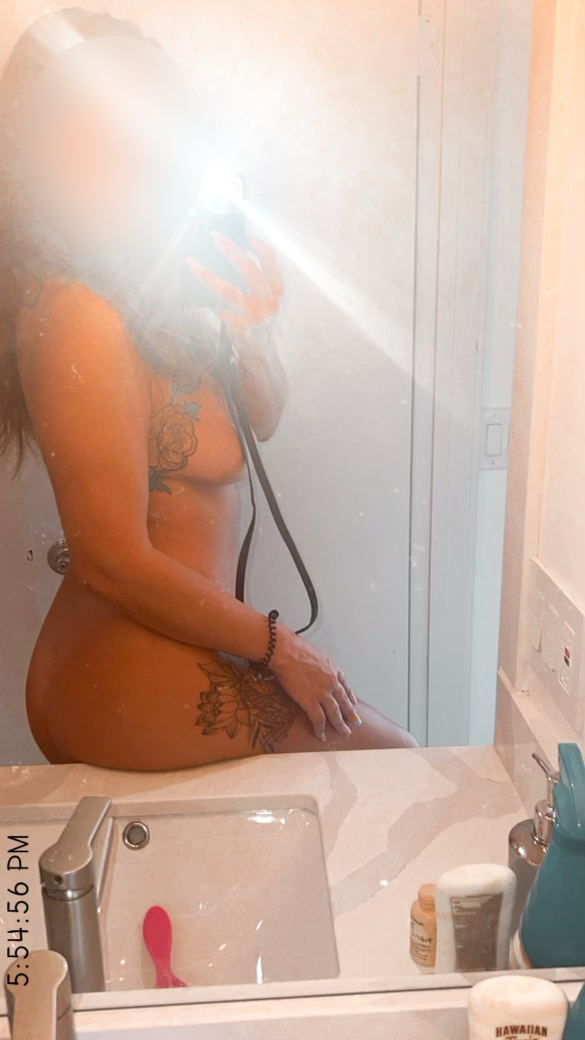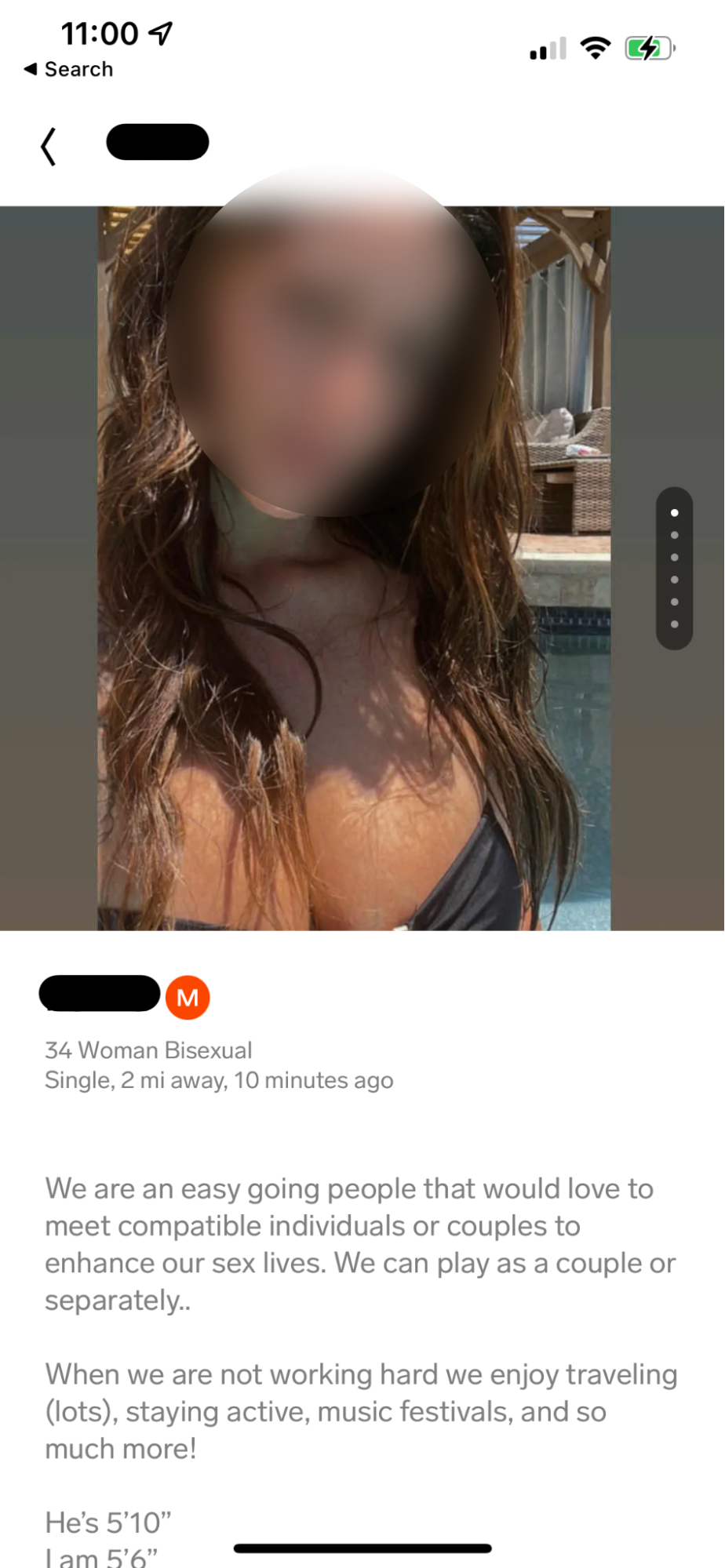 I match with this hot cougar who's in an open relationship. As you see in the bio, they are either looking for another couple or individual. I also know that she's visiting and not with her husband as you'll see in the upcoming conversation. Since it's an immense amount of screenshots, I'll break it down into sections so it's easier for you to act correctly at each stage of the interaction
The number close: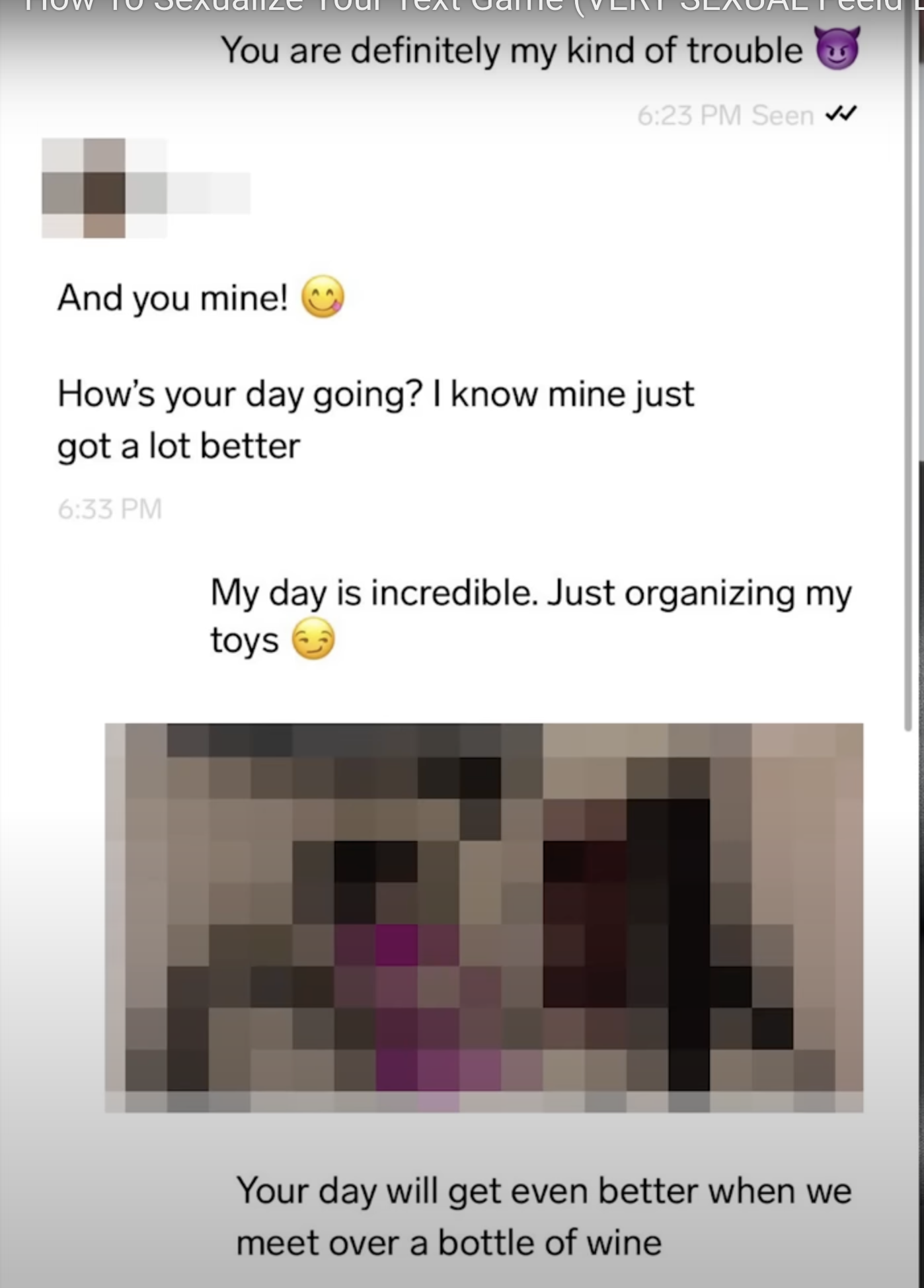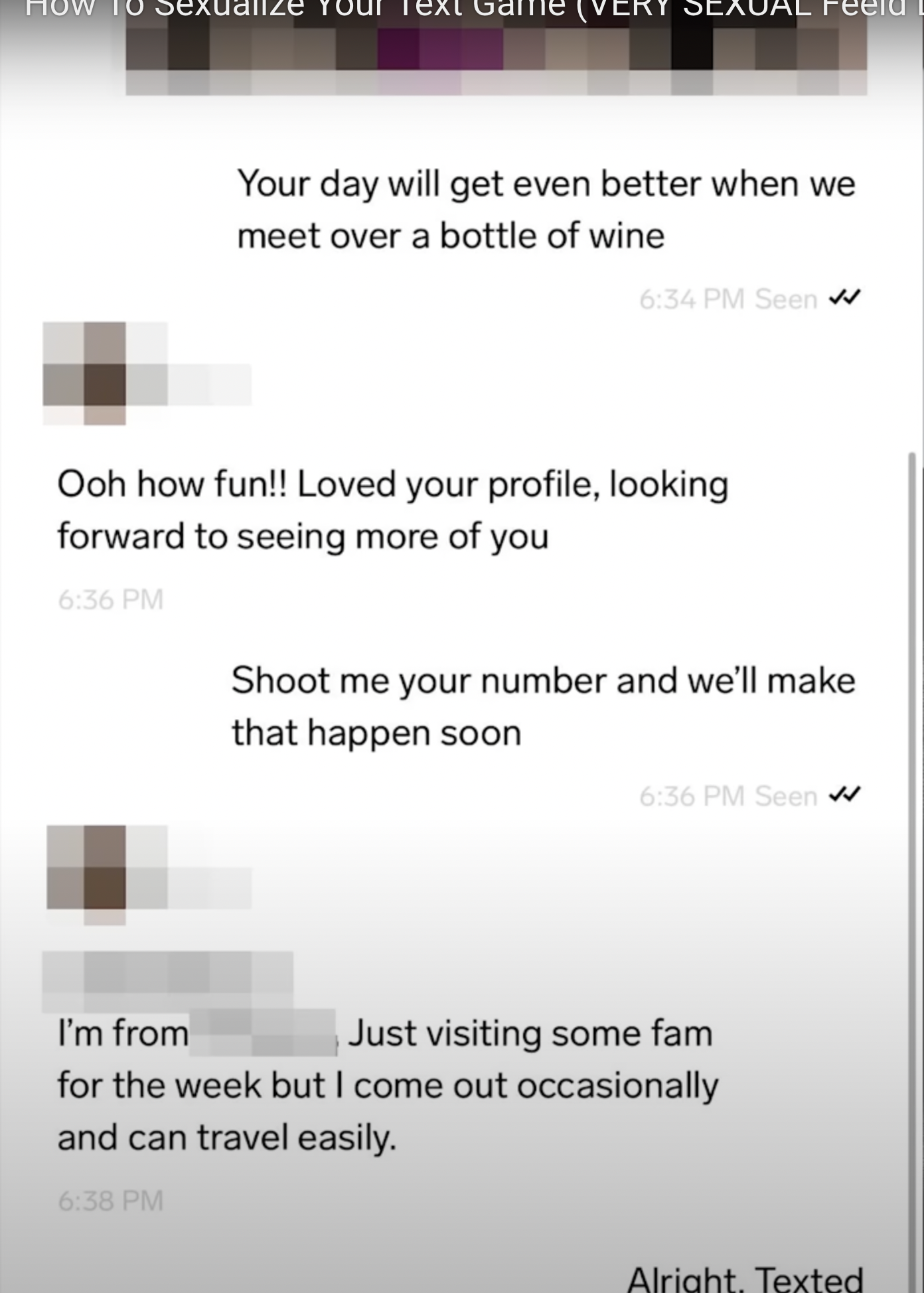 Takeaway:
"You're definitely my kind of trouble" is my favorite opener on Feeld because it makes the girl curious how she's my kind of trouble and what makes me think that.
Also gives her an opportunity to reciprocate the same; which she does here. She also shows even more interest with "My day got a lot better now". Hinting at the fact that because she matched with me, it got better
Even if that's not what she's saying, it's better for the interaction for you to assume the positive.
She asks about my day and I send her a pic of all my sex toys and say "I'm just organizing my toys". Again! Straight to the point. No bullshitting
I go for the soft close with "Your day will get even better with a bottle of wine" insinuating that the meet can happen the same night
I get the number and text her
B) Moving forward and logistics
Takeaways:
On feeld, they recommend you to use a username instead of your real name. As you see, I go straight for the meet, asking her which wine she likes
We agree on a day and she then proceeds to tell me that she has no experience in Tantra. I myself am not quite familiar with it, so I find a way to move it to BDSM/dom/sub dynamic instead
I type up a long paragraph of all the stuff I'm into and also the stuff that I think she's into. Part of being a sexual authority is to not just be knowledgeable in bed but also being quite intuitive about the kind of sex she would enjoy
She bites on it instantly and says she loves to be submissive and happily follow my lead. Explicitly even says she loves being face fucked
Because the meet was a couple days out, I wanted to get her as invested as possible. So, I ask her about her fantasies and desires. Just more info I can use to enhance the sex for the both of us
She sends a long list of things she likes and also explains her situation of being open with her partner. Over here, it's important to not give small answers. You have to reward her behavior of investing so much into the interaction.
So, I talk about how I own bed restraints and I might even use that when we meet up. To move things forward, I even ask her what she's going to wear for Wednesday and all the things I will do to her body
I then ask her pics of her ass since I'm an ass guy ;). God damn! She has a juicy booty and that got me quite excited. You don't really have to do this because it might annoy some girls if you constantly ask for pictures but based on how invested she was in the interaction, I knew she would be compliant
I do a bit of dirty talking to get her excited and don't just stay on the sexting. I move things forward with figuring out how her work schedule is going to be on the day of.
She actually suggests a different day and I'm okay with it since I was free anyway. It's important to not be eagerly available nor be butthurt that she changed the meet up last minute
"I might have to spank you a bit tomorrow" as a way of saying I would punish her for rescheduling. She asks for more pics and I send. I just heart her text of "So fine" to give her room to chase. Which she does. She double texts with "Yeah you can spank me as much as you like"
I do a lot more sexting here because it seems like she needs that warming up and getting excited about the meet up. If the girl wants to do it, you will have to find a sweet spot of sexting just enough but still having the end goal (the meet up) in mind
A bit more sexting and D pic soliciting and she sends me more and more of her nudes. God damn! This woman is crazy hot and slutty
C) The hiccup
Takeaways:
This is where shit hits the fan. When I go to confirm for the time on the day of, she tells me that she's had a rough afternoon and she's gradually going to pull through
She says that some family issues messed up her energy. It's extremely important to tone any kind of sexualizing down here and show nothing but empathy, comfort and accommodate a little
I know Red pill dweebs would literally shame you if you don't give up on meeting her and that she's being clearly disrespectful about your time. Nah. That's quite silly. She never met you, nor did you meet her. Shit like this happens all the time.
I send a photo of my husky to ease her out. Tell her that he will cuddle with her and relieve the stress. Another important step because I showed a lot of dominance and sexual prowess in previous texts but when there's a hiccup, all that needs to go out the window and you need to come up with a solution
I send her my address assuming we were still on and hope that her energy is doing better as we come closer to the meet up time. She then asks me if we could move it to later
I know it might be quite frustrating to some of you but this happens all the times and it's important to be more logical than emotional in a situation like this
I accommodate her but I also show her that I'm just not waiting around to meet her. I put things off that I needed to do to be able to accommodate some time for her. This is again important because you will lose a lot of attraction and value if you seem like you have nothing else going on for the day
She suggests that we would meet another time but I get assertive and let her know that meeting during this visit would be a much better idea since we don't know if she'll ever come back
She then goes to sleep and I don't hear back from her for 4 more hours. She then texts me that she just woke up. I just dislike her text to see if she's going to chase/justify or even let me know she was going to get ready.
She explains her family situation and a disagreement with her brother who's unaware of the openness of her relationship.
She even lets me know that she was going to move up her flight to make sure she can meet me the next day. I go for one last attempt at meeting the same night because the likelihood of her showing up the next day would have been lesser because she has already flaked
After a bit of back and forth, empathy and being accommodating, she asks for a video and that she will get showered to get ready to head my way. I send her that and ask for one in return. She is naked and sends me the video
I then order her the uber, and she shows of in a sexy top and skirt. The date was pretty straight forward. I am very assertive in person, lots of eye contact and we talk a lot about what we are into and instantly go into the deed. She stays over because she didn't want her brother to know that she got wrecked by an indian
Conclusion:
Feeld is one of the easiest apps to rack up some casual hookups or fuck buddies and you can be quite explicit and unfiltered on the app. It's not every time that you have smooth lay reports. You will most likely run into hiccups and you have to be patient and not get emotional or show any kind of negative emotions or lash out at her. Working on your sex game and sexual authority will go a long way on Feeld (or just anywhere you interact with a woman) and you have to be the one who takes the lead and solve any problems that arise
Hope that one was quite helpful,
Indian "BDSM master" PE
Ultimate Dating Blueprint


Now Available
My updated one stop guide to getting laid on tinder and other dating apps with strategies you can apply now to get immediate results 👇🏻