The Ultimate Guide to Getting Laid on Tinder And Much More!
The PWF Online Dating Blueprint is the definitive guide to improving your success on Tinder and all other dating apps. This includes matching with hotter girls, knowing what to text, getting more dates, reducing flakes, and most importantly GETTING LAID! This comprehensive online guide covers all of my knowledge of years of trial and error to show you what really works, no bullshit.
DISCLAIMER - Playing Fire is not affiliated with the Tinder brand in any way.
The Blueprint Includes...
Full A-Z Online Game Product

This includes Everything like: A detailed Guide on increasing Your Sexual Market Value, How to pick pictures, Breakdown of Successful Profiles (including my own), Optimal way to Set up every Setting, Messaging, Setting Up Dates to Your House, Dealing with Objections, What to do During the Meet-up, How to retain girls after Sex, and Much much more

Free Content Updates

Even though this has everything you need and much more, as my Game Evolves there will be more. Instead or re-leasing new products, I will include new content updates in semi-real time. For instance, how to Game on Instagram, How to Get Laid on craigslist, How to travel for a fraction of the Cost…All of this will be shared with PlayingFire Subscription Members

Private Members Only Facebook Group & Webinars

Majority of people require hands on support to achieve lasting results. I learned this pretty quickly doing Skype coaching. This is why i added a private FB group (where i will be extremely hands on) & bi-weekly live webinars where you can ask me to trouble shoot anything you want. View past webinars in members area.
Comprehensive Members Area
The members area is where you'll find all 10 content packed chapters and bonuses including access to the live webinars and Facebook group.
It's optimized for desktop or mobile reading on your phone so you won't need to download anything.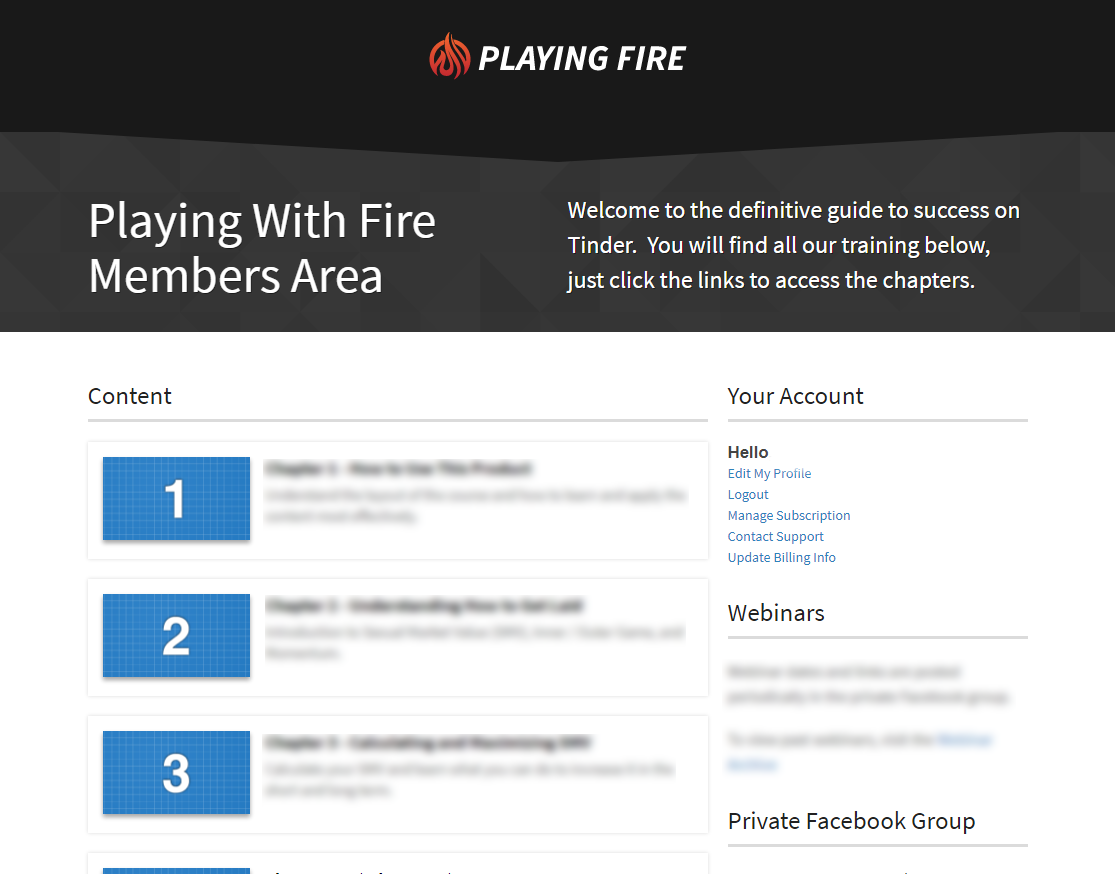 Bonus 1: How to get Jacked - A guide on how to get jacked, written in collaboration a top personal trainer
Bonus 2: Craigslist Game - My little known techniques for getting the easiest lays of your life from Craigslist
Bonus 3: Inner Game Problems - The most common inner game mindsets to avoid and how to fix them
Bonus 4: Exclusive Lay Reports - Exclusive lay reports from Alex and David with screenshots from start to finish
Bonus 5: Meme Collection - A collection of texting memes you can use to spice up and revive dead convos
Bonus 6: Successful Profile Collection - A gallery of successful profiles you can use for inspiration for your own
Bonus 7: Webinar Archive - Past webinars in video and podcast format for easy listening on the go
Price increases to $169 on June 5th
The Core Product
All Bonus Content
Weekly Webinars + All Past Webinars
Access to the private Facebook Mastermind
Free Content Updates
Free month to try out the Membership
Price increases to $169 on June 5th.
This package includes one free month to try out the membership, after which you will be charged $29 a month to retain your membership (Webinars, Facebook group, Content Updates etc...). This price is grandfathered in as long as your are a member and includes everything. There is no obligation and you can cancel at anytime.
What Other Guys Are Saying...
Frequently Asked Questions
How will this Show up on my Credit Card?
In the interest of Privacy, this will show up as "P.W.F." on your billing statement
How does the 30-day free trial work?
Your $125 Product Purchase includes a complimentary month to try out the membership (live webinars, private Facebook group, bonus content updates). After the 30 days, you will  be charged $29 monthly to maintain your membership, unless you cancel.
Is there really no commitment? What is the Cancellation Policy?
Yes, you cancel at ANY time. No questions asked. All you have to do is navigate to the "Manage Subscription" Tab in the Members Area and follow the on screen instructions.
What happens if I cancel my subscription membership?
Unlike most subscriptions, you will retain lifetime access to the core product (chapters 1 to 10) and your account. However, you will lose access to the private Facebook Group, Webinars, and bonus content.
How fast will I see Results?
This will largely depend on you and the level of action you take. The vast majority of my  coaching clients would see very noticeable results after one session (1-2 hours). This blueprint contains everything I would teach my clients and much more.
Will You Personally be Answering the Questions in the Group?
Yes, David and I will personally be answering ALL of your questions!
Will this Work if I am Ugly/Minority/Short?
Yes, almost everyone is capable of increasing their Sexual Market Value. This Product has a whole chapter dedicated to doing just that (both short term and long term). In addition, subsequent chapters will show you tips & tricks to portray that Sexual Market Value to be even higher through the creation of the best possible profile.
Will this Product help me only with Tinder?
No! This product will help you with all forms of online game and much more, like: Understanding female psychology, texting in general, increasing your SMV, designing a workout plan, running dates, answering objections, LMR, Building Rotations, Inner Game problems, and much more. Virtually everything here, and if you have a question that is not answered you can always ask David & I either in the private Facebook Group or Bi-weekly webinar. No topic is off limit and we will do our very best to help you.